Events
Browse the different ideas for adding bagpipes to your event and see how Bill brings the Highlands to the Lowcountry (and beyond)!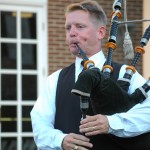 Weddings
For centuries the approach of Scottish and Irish wedding parties have been heralded by the sound of the bagpipes. The unmistakable sound adds a special touch to this important day. There are a variety of ways to incorporate this music into your celebration. I will work closely with you to weave the music of the highlands into your day. From leading the party into the church to a selection during the service and after the ceremony leading the recessional or accompanying the bride and groom into the reception hall, we can help create a memorable event for you and your family.
Some of the more popular pieces of music include Ode to Joy and the Wedding March for the processional, while Amazing Grace is often chosen for an interlude during the service. The power and celebration of Scotland the Brave often leads the happy couple back down the aisle after they are married.
Memorial Services
Very few musical instruments can cause an emotional response like the bagpipes as they fill the air with their unmistakable tones. For hundreds of years, the bagpipes paid tribute to fallen military and deceased heads of state. Today, the pipes have become a popular feature at funerals and memorial services across our culture as they provide a powerful and traditional salute to a loved one as they approach their final resting place. We will work closely with you to ensure a respectful tribute to your loved one and we are sensitive to the traditions and customs of the churches where the ceremony is held.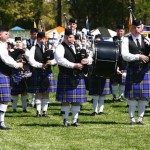 Parades
Put the horses last!! That is one of the most unbreakable rules for planning a successful parade. The second rule, of course, is to make sure to have bagpipers marching! I often march with the Charleston Police Pipes and Drums, however, solo performances can also be arranged if the whole corps is not involved. Just don't put me behind the horses!
Corporate Events
Make an impact at your next corporate outing or marketing promotion by adding bagpipes as an extra-special touch. From welcome music as your guests arrive, to entertainment with an authentic feel, a bagpipe performance will deliver a memorable experience for your company or your customers.
If you can dream it up, we can make it work. Please contact me if you would like to discuss making your golf tournament, charitable event, kick off party or Scottish themed house party special.